You may contact us by email or skype any time you need professional support or have any questions. You can also contact to leave your comments or feedback.
We will try to reply within 24h on working days. If you are waiting an order, please check your spam folder or wait up to 24h. We use to deliver within few hours during our working day, but some times we may take up to 24h-48h maximum. Thank you
EMAIL: You can send to us an email to info |_at_| fbaccs.com     (change |_at_| for @)
SKYPE: Also you can find us at Skype as fbaccs: (click below to take our contact directly to your skype).
Beware of fake sellers pretending to be FBaccs.com using our same name. Our skype account uses as skype picture our logo and username in skype is exactly fbaccs.
The one with the green check and user live:.cid….. is an impostor, as well as the user live:fbaccs.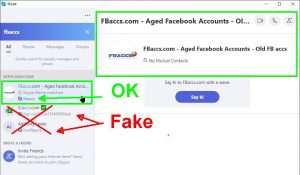 BUY ONLY AT THE SHOP, DO NOT PAY FOLLOWING INSTRUCTIONS FROM THE IMPOSTOR SKYPE USERS
To be sure you write to right skype, use this link below: